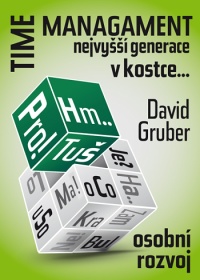 Time management v kostce... - ekniha obsahuje shrnující poznatky k tematice time managementu, jejichž autorem je David Gruber.
Time Management nejvyšší generace – unikátní metoda SOUSTO - Stanovte – ovládněte – uvědomte si - sestavujte – tvořte – ošetřujte - od Davida Grubera, 1. českého lektora a nejčtenějšího autora v České i Slovenské republice v oblasti soft skills.

Dozvíte se to základní podstatné o dosavadních čtyřech generacích a vychutnáte si výhody té páté, která místo pouhých metod zavádí multimetody a unimetodu. S nimi budete time management nejen lépe využívat, ale také jej rychleji ovládnete, osvojíte si jej. Je to jako v cestě za svými cíli přesednout z koňského kočáru do bugatti veyron.